Mosquito season: Five things about a bad bug year in Metro Vancouver
[ad_1]

An SFU entomologist answers our questions about a bad bug season and what to do about it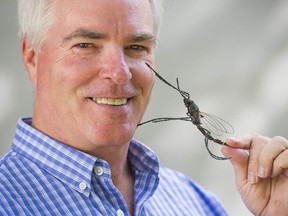 Article content
If you've been shocked by how many mosquitoes you're seeing around Metro Vancouver this summer, an expert on the pesky insects has some advice: Be thankful you're not living in Central America — or Winnipeg, for that matter.
Article content
Carl Lowenberger is a professor in Simon Fraser University's department of biological sciences who specializes in bugs, parasites and how they can be vectors for diseases that negatively affect animal and human health.
Where Lowenberger conducts his field studies, in the humid tropics of Central America, mosquitoes aren't so much a bloody nuisance as a constant health threat. They carry worrisome diseases like malaria, Dengue fever, the Zika virus and yellow fever.
Here in B.C.? Not so much. But they have been a problem this summer, so we asked him for his thoughts and advice.
Why are mosquitoes so bad this year?
Lowenberger explains there are two predominant species of mosquitoes in the Lower Mainland. One type overwinters in places like basements and barns and, when it warms up a bit, they're ready to go. "These are the first ones you'll see."
Article content
The other species, and the troublesome one this summer — Aedes vexans — lays eggs that overwinter instead. They don't lay them in water but just above it, such as on riverbanks. In spring, when the weather warms, the snowpack melts and rivers rise, the water activates the eggs into action. Cue the swarm.
Because this spring stayed cool and wet, Lowenberger says it was a slow build-up to the perfect conditions and then, boom. Warm weather, more rain, melting snow and thus high water levels on the Fraser River meant the hatching started up all at once.
What's more, Aedes eggs can remain viable over multiple years, lying in wait for the right conditions to hit in spring. This year just happens to have been perfect and several years worth of eggs were ready to hatch. "All of those larvae are bursting out at the same time."
Article content
How long should we expect it to be like this?
"My suspicion is it'll peak by early August, if it hasn't peaked already," says Lowenberger.
The current forecast for warm to hot, dry weather through the last part of July is exactly what mosquitoes don't need to continue hatching. "Probably by mid-August most will be gone, I expect."
And September tends to cool off a bit and remain mostly dry, so they should no longer be an issue in the latter days of summer.
Does this big hatch have anything to do with changing climate?
"Absolutely," says Lowenberger. A changing climate has meant B.C., as elsewhere, is seeing bigger swings of temperature, heavier rain when it comes, bigger snowpacks and generally more extreme weather patterns.
Article content
"It definitely has an impact on mosquito populations when the pendulum is swinging to the extremes."
Should we be concerned about health problems from mosquito bites?
"They're a nuisance but not really a concern," says Lowenberger. "The number of cases of mosquito-borne illness (in B.C.) is essentially zero."
In theory, we could see disease transmission from mosquitoes on the coast, but there just aren't enough of those problematic pathogens around. Someone could, for instance, catch Dengue fever while travelling to an area where it's endemic and bring it back. It just doesn't occur here except in exceedingly rare cases.
"We have the vectors (the mosquitoes), but we don't have the diseases circulating."
Article content
That's not the case everywhere in Canada. In Manitoba, mosquitoes are enough of a concern that the city of Winnipeg has a full-time entomologist whose main work is tracking and eliminating hatchings.
How can we combat the pesky critters?
Repellents like citronella, lotions containing DEET and other compounds that deter the bugs have differing levels of effectiveness, but Lowenberger says DEET "has been the gold standard" for a while now.
Commercial DEET products heavily dilute the chemical repellent. (It's called N,N-diethyl-meta-toluamide, but let's stick with DEET, shall we?) That's a good thing because a 100 per cent solution of the stuff could break down the fabric of a raincoat.
Lowenberger says to use your common sense in applying it, and to use caution in the concentration of DEET in products you put on young kids.
Another important way to keep mosquitoes at bay is to keep standing water away from your yard. Lowenberger himself keeps big tubs in his garden and often sees larvae in them. "If you leave standing water around, they'll find it and lay their eggs."
Unfortunately for some, there are parts of the Lower Mainland that naturally have the right conditions for a lot of mosquitoes this year, especially communities along the Fraser like Langley and Maple Ridge.
[ad_2]